Our Process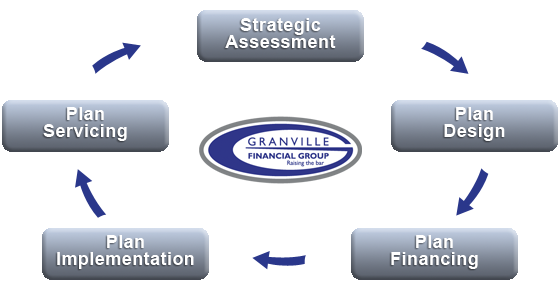 In order to create a Game Plan, it's important that we develop a clear understanding of your organization and its objectives.

Questions to Consider

What Are Your Goals?
Analysis/Review of Existing Plans?
Golden Handcuffs: Retention of Key Officers?
Equity Compensation?

Incentive Compensation?
Retirement Income Strategies?
Planning for Directors?
Succession Planning?




Using a consultative approach, we will develop customized Plan Design alternatives that integrate with your organization's strategic plan.

Whether it's meeting with your Board or Compensation Committee, assisting with regulatory compliance documentation, or enrolling plan participants, GFG will guide you in the successful implementation of your plan.

To help offset Compensation Plan expenses, GFG can craft a sound financial strategy and deliver institutionally-designed financial products in order to fuel your Executive Compensation Program.

GFG's client-focused business model ensures that our clients' Executive Compemsatiomn Programs are handled efficiently with limited time required by the staff of the Bank.  Whether it's presenting Annual Review Reports at Board meetings, providing on-demand data for examiners, adding new participants to a plan, or addressing basic questions- our team of professionals is committed to providing excellent client service.
Contact Us
1980 Post Oak Blvd., Suite 1500
Houston, Texas 77056
866.850.4957
866.850.7430